Antourage: Leveraging influencer marketing to connect and monetise
What is more authentic than a live stream?
Johan Junker, CEO of micro-content production suite Antourage, asked himself that question nearly a decade ago, as social media was weaving its way into our routines and before Periscope, Instagram Live and Facebook Live entered the scene.
At the time, Junker was a creative director at Discovery Network, and the idea of live streaming purely authentic content came about when he was working on a marketing campaign for a Swedish comedian and he observed "the power of authenticity and real-time media."
Antourage, which he founded in 2016, offers influencer-driven Fan Engagement as a Service, giving sports entities the power to leverage authentic live streams while making the lives of brand managers and content creators easier.
By using Antourage, sports and entertainment entities can rethink and re-strategise their content, giving fans a voice and putting owned channels at the forefront of fan engagement.
Bringing the party to proprietary platforms
"With Antourage, we make it possible for rights holders and content creators to throw the party on their proprietary platforms," Junker explains. "What I mean by throwing the party is providing that interactive experience that you see on social media on your proprietary channel."
Antourage created a suite of products for content owners and influencers: the management dashboard, broadcaster app and Antourage Widget. The management dashboard is where content owners create their team of live streamers and select who can broadcast and on what platform. The broadcaster app is built for the live streamers and is where selected influencers and superfans can broadcast their messages. The Antourage Widget lives on owned channels, whether it's an app, partner platform or website. This is where fans and followers watch and engage with content, and content owners can access data on their viewers.
How is this different from going live on Facebook or Twitter? Foremost, Antourage's suite of products allows content owners to go live on all platforms at once. Rather than stream live to Facebook, then Twitter and then Twitch - or perhaps assign different influencers to different platforms - content owners can stream live to all locations simultaneously, reaching audiences across the board. Antourage also offers data and insight about viewership that content owners don't have access to when streaming on social media. Secondly, Antourage provides a seamless solution for publishing user generated content to owned channels with influencers using their own device, from any location.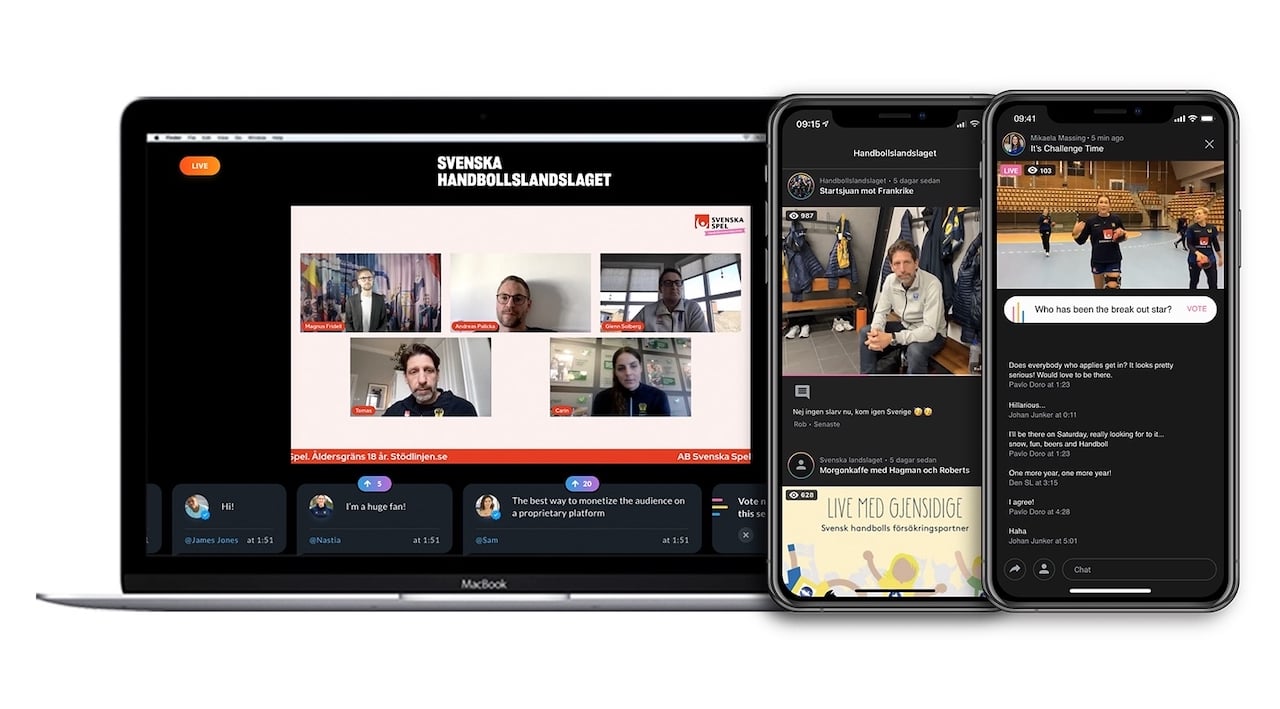 Simultaneous streaming benefits both the consumer and content owners. While fans may go to social media to "discover" content, owned channels provide them with one central location for content they know they want to consume. They are able to turn to their favorite team's apps to get content that appeals to them, rather than sorting through the noise of social media. This is also crucial to bringing fans back to the app without an external trigger.
For the content owners, this generates more app traffic and longer retention time than content on social networks. According to Junker, the watch time for Antourage-streamed content is 15-20 times longer than videos on Twitter and Facebook, and 30-40 times longer than TikTok.
Leveraging the growing influencer culture for monetisation
Influencer culture is expanding, with some estimating that brands will spend up to $15 billion on influencer marketing by 2022. Antourage allows sports organisations to leverage influencers, or super fans, to create interesting, engaging content. This is content they control entirely, without third party platforms who may not necessarily share valuable data, and can be used to refer viewers to econ platforms with a sales code or extra incentive to purchase.
Allowing influencers to live stream directly to an organisation's owned channels gives content creators and rights owners an influx of content that is not only interesting to fans, but to sponsors as well.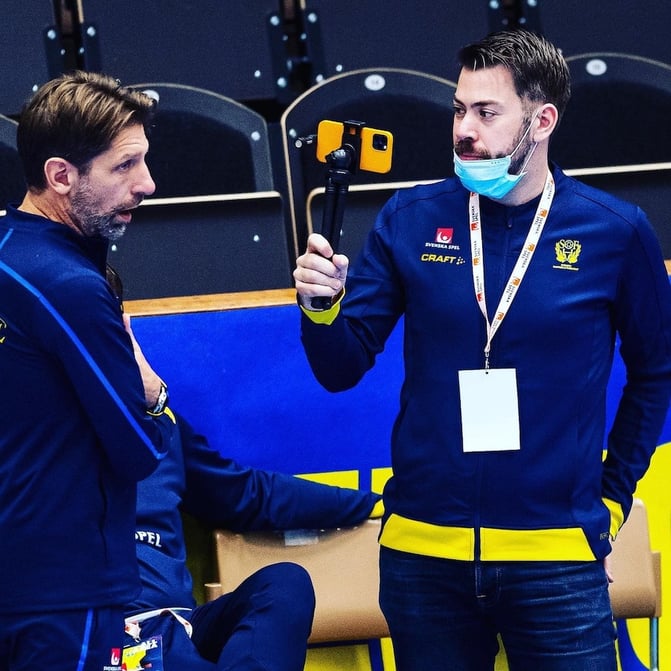 Image Courtesy of Swedish National Handball Team
"Sponsors are looking for an organic fit with a target group," Junker explains. "So we're also making it possible for rights holders to approach sponsors and say 'hey sponsor, our target group looks like this, and they have these interests, these are their consumer patterns, and they like to see these things.'"
This allows for the creation of campaigns where sponsors get exclusive exposure and interaction with an audience with a very high affinity level, creating new revenue streams for rights owners.
Utilising Antourage to increase reach by 1200 percent
As part of the collaboration between Infront and EHF to incorporate new technologies, Antourage deployed its product during the Men's EURO 2020. EHF streamed to their tournament app and social networks simultaneously, improving reach across all platforms with one piece of content. Moreover, 88 percent of comments came on the Antourage Widget on the EHF app, and nearly 70 percent of videos viewed on the app were with intentional play, compared to 18 percent on Facebook and 11 percent on YouTube.
Antourage also launched with the Swedish Handball Federation, which saw an increase of 100 percent app downloads within three days. Achilles International, an organisation which enables people with disabilities to participate in mainstream running events, increased its social reach by 600 percent when simulcasting to social during the NYC Marathon. The Los Angeles Pride festival increased their social media reach by 1200 percent in just six weeks.
Participatory culture is growing and becoming increasingly important across all age groups, furthering the need for production suites such as Antourage. Live streaming directly to proprietary platforms, sharing deeper, more engaging content and giving super fans the ability to connect to their team and fellow fans on another level doesn't only give viewers an extra sense of belonging, but is valuable for content creators and rights holders, allowing them to leverage content to improve KPIs and monetisation opportunities.