How to effectively track your OTT channel's performance
The live sports consumption landscape has changed quickly and drastically. Part of this change revolves around the world of streaming, or more specifically, the current cord-cutting trend. Consequently, more and more sports federations, clubs, leagues and teams are investing in building their own OTT channel. This move is undoubtedly the need of the hour, and is certainly valuable for sports fans. It's also an excellent opportunity for sport organisations to create new revenue streams at lower costs, gather more fan data, improve their reach and engagement, and much more. Organisations can start fantasizing about the whole OTT prospect and tons of data they will be able to make use of. While the prospect seems bright, this is where the struggle begins!
All your data is collected and stored on different platforms, right? You have plenty of data that's connected to your OTT - social media channels, which you use to draw fans to the platform, online payment systems that record subscriptions and purchases, OTT app data from Play Store or App Store, CRM, website traffic from Google Analytics to know where your users come from, email marketing tool that tracks the performance of your campaigns - we can go on and on.
But this is all S-C-A-T-T-E-R-E-D. It is all available. Each dataset is an asset, but there are a few problems:
Making sense of this data or finding some useful insights is laborious and time-consuming
Even after trying to analyse each set of data, you still cannot get the full picture of your efforts
So, what's the point of having so much data when we are unable to connect all the dots?
"It's not the size of the data, it's how you use it!"
Whoever said this, we second that!
In order to make effective data-driven decisions, it is necessary to leverage technology that brings all your data together under one roof within dashboards that help you uncover links between your marketing campaigns, impact on your subscription or subscription selling goals, and your eventual long-term viewership goals.
The Big Picture
Dashboards created on Dash X give a broader perspective of an OTT platform's performance and allow you to see multiple aspects in a single view:
How are you spending your money on marketing?
Where do you stand in terms of your budget?
What have you achieved from your efforts and spending?
How far are you from your ultimate long-term goal?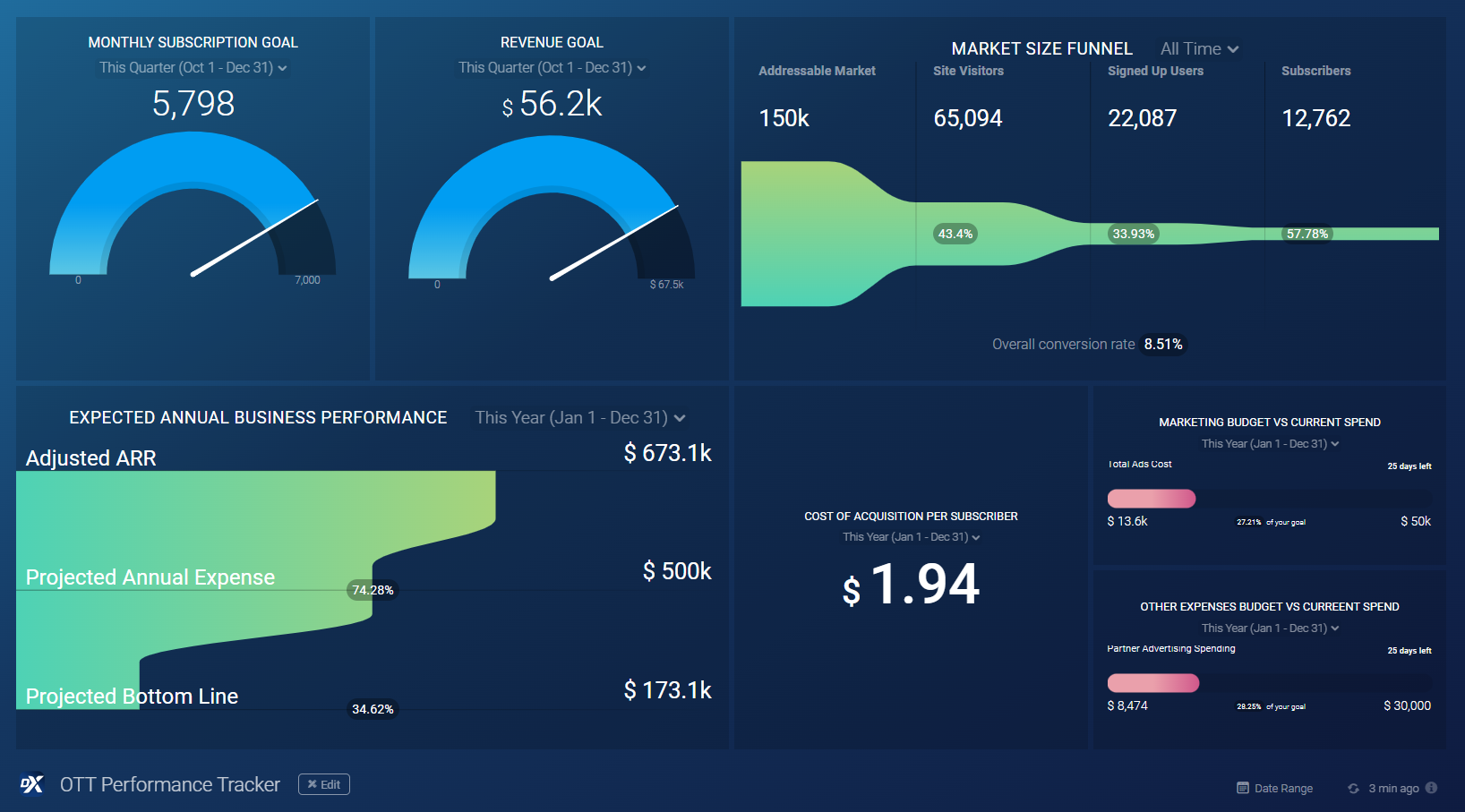 If you look closely, this view has data from many different sources (all numbers and figures shown were made up for this blog post). Take for example the "Market Size Funnel" you see on top right. It has 'Addressable Market' data coming from a benchmarking tool, while the 'Site Visitors' metric is pulled from Google Analytics, and the 'Signed-Up Users' and 'Subscribers' are fetched from CRM.
Similarly, the bottom right blocks show a tracking bar of marketing cost in real-time, being pulled and calculated together from multiple digital ad platforms such as Google Ads, Facebooks Ads and TikTok Ads. This is measured against the fixed allocated budget to keep a check on the expense.
Don't Leave Out the Smaller Details
Seeing the big picture is great, especially for top-level managers for whom this is invaluable for strategic business decisions. But don't forget, detailed reports are equally important.
Indeed, there is merit in breaking down the activities and results into smaller segments of your activities around your OTT such as content publishing, social media, paid and organic channels, etc.
For instance, viewing the performance of your email marketing campaigns independently gives you insight into what type of emails fans engage with or how well your last campaign performed.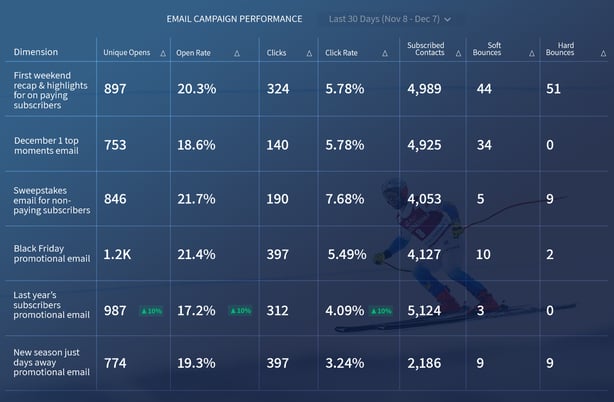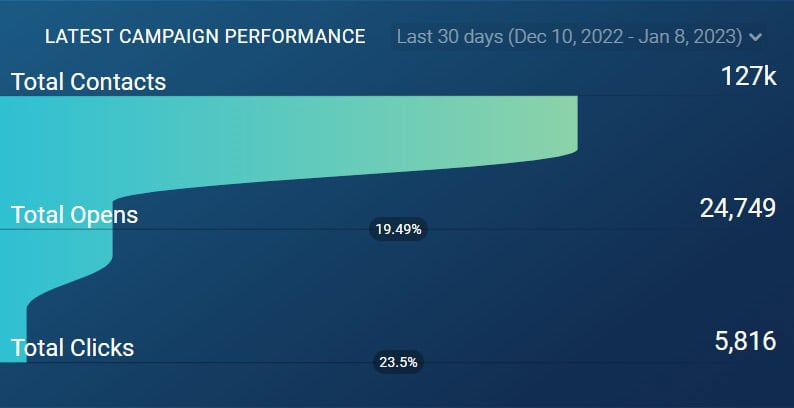 You should also look at which channels are giving you more value and where you should invest more time and money. Let's consider the paid ad campaigns that you are running on different channels – Google Ads, Instagram Ads, TikTok Ads, Facebook Ads, etc. You allocated budgets for each with a conversion goal of OTT subscription.
You likely have questions such as:
Which channel is giving you more conversions?
At what cost are you getting those conversions?
What is the overall rate of conversion?
When did your OTT see more conversions from these ads?
In such a case, you should aim at creating dashboards that can give you a consolidated view of your paid ad channels but also a comparison of individual platforms.
Take the dashboard below as an example (all numbers and figures shown were made up for this blog post). It shows that $6.7k were spent on ads over 20 days while 94 percent of revenue from conversions came from those ads (top left block). You also see that ad impressions were 185k, of which <1 percent were converted to subscribers (bottom left block). This can immediately give you an indication that your ads are performing below the industry standard, and you may need to change your strategy or ad type. You also see that the ROAS (Return on Ad Spend) is higher from Facebook Ads than Google Ads (second block from top left). This metric tells you how much money you get in return for every $1 you spend on ads on both channels. The numbers here hint for you to consider investing more on Facebook Ads, if the trend continues.
Identifying Key Content
At the end of the day, everything you do is for your fans. When it comes to your OTT, your fans are your viewers, and what they're watching is important to further nurture your relationships with them. Information such as what fans are watching, how long they are watching and whether they're watching live or on demand is key for improving their experiences. Are they more prone to watching highlights of one specific athlete? Do they watch a lot of events on demand rather than live? Providing data-backed answers to these questions can have a huge impact on your next steps.
In summary, to effectively monitor and enhance your OTT performance, all your data must be gathered and reviewed together. A consolidated view is the key to truly understanding where you stand, and to see the complete picture of your actions, outcomes and progress.
This approach consists of several distinct segments around OTT like marketing, advertising, content and finance. Each of which has single or multiple channels under it. The unification of data from these channels will give a clear picture of each segment, and consequently the overall OTT's standing.