Avoiding Injury, Improving Performance: Zone7 Is Empowering Sports Medical Teams
Injuries have plagued the sports world for decades.
Athletes and teams spend countless hours preparing for the biggest games, biggest events, biggest moments. They train their bodies and their minds; some spend more time in the gyms than with their families and follow restrictive diets to achieve their goals.
All of that can come to an end at the blink of an eye, with an unfortunate injury that could cost an athlete a medal or a team a championship, and can have a severe financial impact on everyone involved.
This can all change.
With new cutting-edge innovations medical teams now have the ability to detect injuries before they happen. These technologies provide sports organisations with invaluable data, allowing them to make more educated decisions that keep athletes healthy,and saves sports organisations millions of dollars.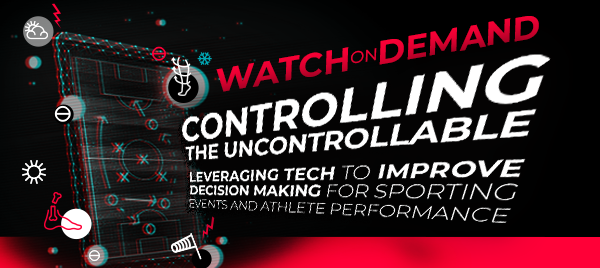 Injury Prevention and Improved Athlete Performance
Silicon Valley startup Zone7 has recorded and analysed over 100 million hours of data to help decision makers.
How exactly can data help medical teams?
Zone7 leverages data about how athletes are performing and how well they are physically to prevent injuries, explains Tal Brown, CEO and Co-Founder of Zone7. By analysing data from thousands of athletes, Zone7 is able to find patterns that lead to injuries or peak performance. The data comes from every day wearables like your Garmin or Apple Watch or wearables specifically designed for athletes to wear during games.
"We focus on what we call tactical detection," Brown explains. "It's not about whether you'll be hurt in the next few years or in the next year. For us it's are you at risk or falling off the cliff this week? So we work on a very tactical several day window that allows the team or individual to immediately implement changes that should help de-risk."
These changes usually revolve around workload. For example, Zone7 offers suggestions on how far or how quickly a runner should run during his or her next workout, to ensure they're not pushing themselves too hard in ways that can lead to injury.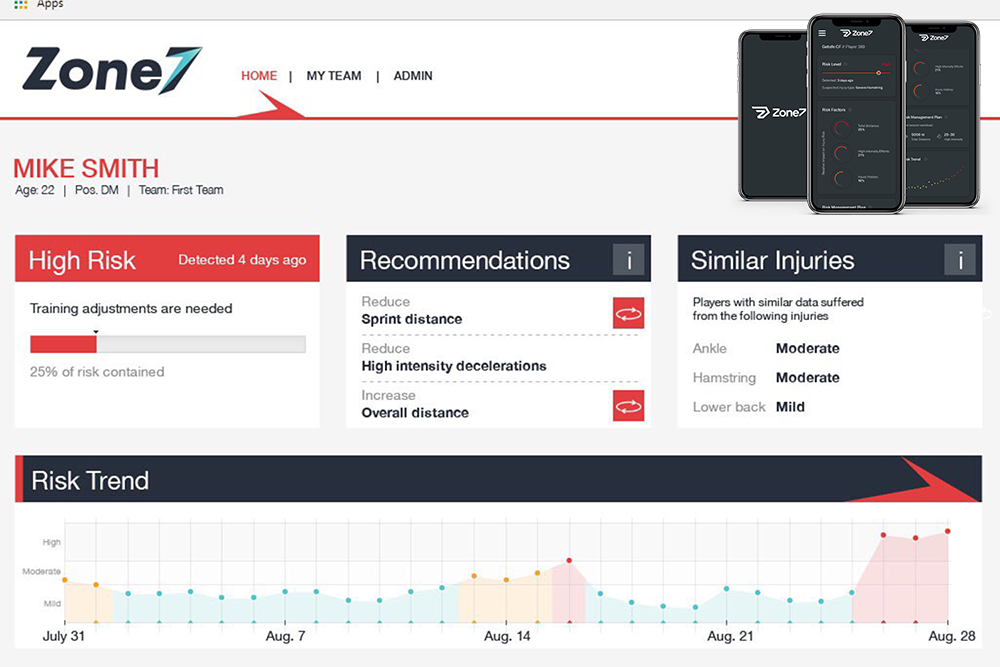 "That's where we can help control, from a data perspective, how to make that next workout effective but optimally not risking you," Brown says.
For professional sports teams, the goal is to have a healthy squad and to ensure everyone is available to play every week, what Brown calls a "percentage of availability," and one they were able to keep at above 90 percent for one of their clients, Getafe C.F.
Over a two season period of working with Zone7, Getafe - who plays in Spain's top football league, La Liga - saw a 65 percent reduction rate in days out due to injury, and 70 percent reduction in injuries, resulting in the number one spot for player availability in the entire league.
Not only does the team have the lowest injury rate in the league, but they also have the highest percentage of goals scored by substitutes, explains Brown.
"That means they are able to use minutes from substitutes in a very, very effective way," he adds. The team is able to get more out of their substitutes and is able to keep players healthy and productive for long periods of time, both of which are key for a "relatively aging team," as Brown says.
For teams, financial losses due to injury can be a direct calculation of losses. According to Brown, in football an average squad loses around ten percent of their team to injury at any given time. This has two significant impacts. Firstly, the team is paying salary to players who are sidelined. Secondly, the team is taking the field without significant players, meaning they may win less, which could result in them not being promoted to better competition or lower fan engagement.
"It's a multi billion dollar loss for sports in general," says Brown.
For individual athletes it's more difficult to quantify how much they may lose financially due to injury. A high percentage of runners and triathletes have had injury issues in the last year or two, says Brown, and if they don't have sponsors or a guaranteed paycheck, injury could be costly.
It's also a big issue for event organisers, he adds, due to a certain percentage of athletes can't attend their events.
Zone7 doesn't just give teams and athletes the power to detect possible injuries, their technology allows them to play both defense and offense when it comes to performance.
"Playing defense" means they are preventing and reducing injuries, explains Brown. "Playing offense" means that once they solve the injury issue they are using the technology to improve performance and achieve goals. Can a runner finish a marathon in under three hours? Can athletes reach their weight lifting or fat-loss goals? Information provided by Zone7 is helping athletes push beyond their previous limits, creating better, faster, stronger, healthier versions of themselves.
Covid-19 and Injuries
In 2020, due to covid-19, injury prevention will become an even bigger topic of conversation in sports.

Many athletes were forced to halt their training regimes and work out at home, under circumstances they are not used to. Some may not have even trained. When leagues around the world returned, many players and athletes didn't have the time necessary to prepare properly. Some teams only had two to three weeks to get their squads back into shape before games began, putting their players at risk of injury.
"Training methods were ill prepared to deal with this kind of congestion and short preparation," says Brown.
In the wake of Covid-19, Zone7 partnered with teams to help them make decisions in a dynamic environment on a day to day basis. Their software helped decide things such as who plays more, who plays less, how to train and what types of exercises and drills to do.
While the pandemic may have propelled sports organisations' to put a greater emphasis on training, workload and potential injuries, Zone7's technology is one that could have a resonating effect on the sports world for decades to come. Furthermore, by using data and innovation to monitor and improve sports performance we could see the rise of an even greater generation of athletes.