The ultimate sports sponsorship guide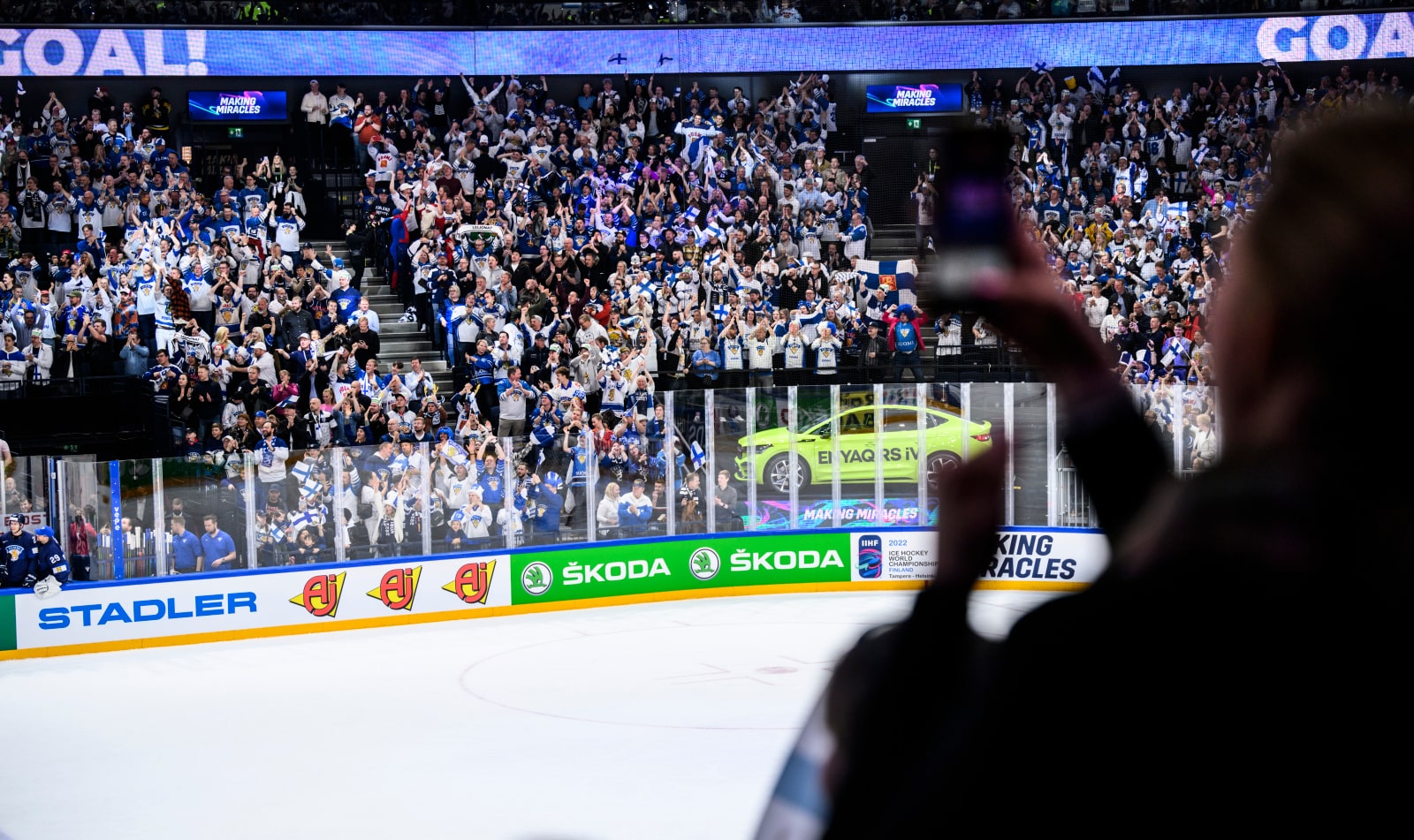 Sport has been part of society for several millennia, creating heroes through the demonstration of physical and mental prowess. But what is sport sponsorship and how can it help brands?
TABLE OF CONTENTS
The history of sports sponsorship
Sports sponsorship has a rich history. Whilst wealthy individuals in ancient Greek and Roman times would sponsor gladiator fights and chariot races, the current model of a brand lending its name to a sporting property has its roots in the late 19th after tobacco cards were introduced in the UK, a series of 50 cricketers appearing in W.D. & H.O. Wills packets in 1896.
Stumble forward a few decades to 1928 and you find the first deal between Coca-Cola and the Olympic Games, a partnership that continues to this day. The Olympics also bore one of the first times an athlete has endorsed a shoe, Jesse Owens famously winning four gold medals at the 1936 Berlin Games in a pair of running spikes provided by Adi Dassler, founder of Adidas. You may have heard of them.
The advent of broadcast in the 1950s provided a wider audience for brands to tap into and the increased commercialisation of sport rapidly followed suit. Inventory spread from shirt sponsorship to advertising boards and sponsored graphics as advertisers found new and creative ways to gain attention. The opportunity to reach millions of engaged consumers has seen major brands associate themselves with events at all levels of the sporting hierarchy for more than half a century.
So how does sports sponsorship work in today's multi-channel, battle-for-attention world?
How can brands position themselves with sports sponsorship?
The Sponsorship Collective has described sponsorship as a verb. In today's broad world of media and marketing rights there is no "off the shelf" solution for brands and, if they are doing marketing correctly, a simple logo placement will not provide sufficient return on investment (ROI) on sponsorship. Companies investing in sports sponsorship need to look at the bigger picture to engage with fans and not rely on just one piece of inventory. This could include a wide range of options.
On-kit sport sponsorship
To most, shirt sponsorship is the most obvious form of advertising in sport. Emirates current agreement with La Liga's Real Madrid for front of shirt sponsorship is worth EUR70m a year to the club and affords the airline one of the biggest product placements in the sport.
Whilst football tends to provide the biggest revenue for clubs when it comes to shirt sponsorship, it is prevalent across almost every other sport. There are few occasions where it does not feature – the FIFA World Cup, European Cup and the Olympics being just three.
In recent years, kit sponsorship has spread to more areas of sporting apparel. Sleeve sponsors were introduced to most major football leagues at some point in the 2010s. Other sports beyond football allow a more liberal use of logos, with many shirts adorned with numerous brands across shirts, shorts and socks. British newspaper The Daily Mirror once famously sponsored the soles of boxer Julius Francis' shoes for his much-anticipated fight against Mike Tyson in 2000 in one of the most opportunistic moves in sports sponsorship history. It proved a worthy investment as Francis was knocked down twice in the first round and three times in the second before the referee mercifully brought an end to proceedings. Whilst it did manage to garner short-term attention, it also proved that one inventory does not a sponsor make, and effective advertising in sport needs to be paired with other options.
In-arena visibility
Advertising boards first began appearing in the 1970s and since then perimeter advertising has provided a colourful background to most sporting events. At first these were static before rolling boards and LED became more widely used. Many in the sport industry believe the next step is virtual advertising, where rights owners can sell the same spot in an LED timeline to numerous, regional sponsors who can target specific geographies. We have already seen this happen in football, handball, ice hockey and F1 to great effect, and it does allow new revenue streams and lower barriers of entry for brands who are only looking to address one specific part of the world. As with all sponsorship, however, it needs to create a positive experience for all stakeholders; fan, brand and sponsor.
Sponsorship has also made its mark on the field of play, with pitch markings in rugby, under-ice advertising in ice hockey and floor stickers in handball just three examples. Cam carpets, the area in which a camera is positioned, have also been used in venues and can be virtually replaced in some instances.
The issues with both in-venue and on-kit sponsorship is a metric most in marketing live and die by; "how many people saw my brand?" Whilst prominent, it can only be measured through indirect means. This doesn't take away from both methods as a viable way to boost a brand, but it again leans into the argument that a multi-faceted approach is required.
Digital sports sponsorship
The advent of digital and social media offered a new opportunity for brands to reach audiences in a more targeted fashion. For the first time there was a two-way channel when it came to who they were speaking to and what kind of advertising they reacted positively to.
The first phase were banner ads on sports websites, offering links to products and services directly and making the barrier for access much lower than it had previously been with traditional kit and in-venue sponsorship. From there it moved to social media, with sponsors using their marketing rights to become a curator of sports content on their own channels. Time has seen this develop into a more tailored approach, and automated content creation means sponsors have the ability to provide customised content for specific audiences. An example is the European Handball Federation's (EHF) use of WSC's automated video service, providing country-specific clips to its partner LIDL to share to its regional social media channels for the EHF EUROs.
Digital sponsorship offers the chance for brands to offer a more accurate metric next to more intuitive methods such as kit branding or in-venue advertising. In the last five years it has become an essential tool in many marketeer's armoury as the need to justify spending has become more scrutinised.
Sports sponsorship and hospitality
The final aspect of sponsorship which is often a necessity for brands who are selling their own products and services is hospitality. This is hugely audience-focused and, in many ways, does a similar job to what digital marketing looks to achieve, targeting specific levels of potential clients and providing an opportunity to directly engage with them.
There are easy ways to access this through simple hospitality packages at major events, but sponsorship inventories do tend to include this as an additional perk to one of the other methods listed previously. If brands find a way to link hospitality to an overall experience onsite, then their impression is going to be more memorable to a potential customer.
Where are the opportunities in sport sponsorship?
According to Statista, the global sports sponsorship market was worth an estimated $57bn in 2020 and is expected to rise to USD$90bn by 2027. Over a third of this is generated in North America, mainly driven by the likes of the NBA and NFL, two properties which have become global behemoths over the last 10 years. These are just two high profile competitions in an industry of thousands of events.
Whilst the biggest companies in sports sponsorship do aim for the marquee events, they also spread their brands across multiple rightsholders. These smaller events also offer a gateway for organisations whose ad spend may not be the same as the GDP of a small country.
Sporting apparel brands unsurprisingly take up the top two spots of SportsPro's 50 biggest brands in sport, Nike spending over USD$600m and Adidas almost USD$350m. However, they have also cast their net wider than any other brand on that list, more than 16,000 for the former and 9,000 for the latter. Puma, who also makes the top 10 with a spend of almost USD$150m, is third, leveraging almost 5,000 events for its brand.
Outside of sports apparel it is difficult to pinpoint one specific industry that dominates sports sponsorship. This is where the tailored approach and understanding a sport's audience comes into play. Nike, Adidas and Puma are spread across several sports as they recognise that many who watch events also participate themselves at an amateur level, so their audience is broader than others. However, specific industries recognise that their target audience may only fit certain competitions.
For example, according to Caytoo, gambling accounts for 18.3% of sponsorship among the top sporting leagues in the UK. However, this is weighted heavily by its involvement in football, with almost a third of clubs in the country's top four divisions relying on a betting sponsor. That compares to zero in both rugby and cricket. Gambling companies have likely used insights to establish that football fans are more likely to use their services than other sports supporters. This is further supported by research from YouGov which indicates that only 12% of people asked feel that betting companies are an appropriate sponsor of professional sports clubs across the board.
The same YouGov research highlights some of the other industries where sports sponsorship has generated revenue. The automotive sector remains a big spender in sport, Kia leading the charge according to SportsPro's list with a USD$93m spend. There are synergies between motorsport and car makers, but one aspect which points once again to the necessity for brands to have a broad portfolio of sponsorship activations is Toyota. The Japanese manufacturer was one of only of the International Olympic Committee's TOP sponsors to make the top 50 (the other being Coca Cola) highlighting the importance to spread spend across numerous target markets if a brand wants to make a global impact.
Professional services, financial services and alcohol have also traditionally been linked with various events, the latter now using sport to push alternative products. This is most obvious in Formula 1 where Heineken has used advertising to hammer home its "when you drink, never drive" message as well as its 0.0% beer.
Technology is becoming a new player within the space. Whilst this includes traditional telecommunications agreements, it is beginning to include brands who operate within the blockchain space. Crypto.com signed an agreement with FIFA in March to become the exclusive crypto currency trading platform for the 2022 Qatar World Cup. It was the latest in a series of sponsorship agreements from multiple companies who use blockchain, and with the advent of 5G over the coming years and huge growth of esports, this trend of tech companies being more bullish within sports sponsorship will likely continue.
Why sports sponsorship? What are the benefits and why should brands invest?
Sports sponsorship has grown in both scope and capabilities since it was first introduced several centuries ago. There has always been value for brands and spend is not decreasing. Why are companies continuing to invest millions in sport sponsorship?
In a broad sense, there are three driving factors for brands to sponsor sport:
Brand-driven sponsorship
In the noisy world we live in, brand recognition is everything. There are many choices when it comes to products and services, and although there are price barriers stopping certain demographics making certain purchases, a lot of consumer decisions are made on whether there is a connection with a brand. Sport can help build brand awareness through simple media exposure, expanding traditional reach to new audiences and standing out from the competition.
It can also act as a vehicle for communicating the values a brand stands for. Women's sports sponsorship is a good example of that. A study by The Space Between highlighted that women's sport fans are 25% more likely to buy sponsor products than those that partner men's sport. Furthermore, the same study found that 50% of women's sport fans strongly agree that sponsors should look to make the world a better place compared to just 20% for men's sport.
There are ways to measure sports sponsorship. Media exposure can be as simple as the number of seconds a brand appears on the screen during a sports broadcast (as it was in the early years of board advertising) or dive deeper into some of the analytics available through digital channels. This is also a relevant discussion to have when deciding if and how to a mix sports sponsorship or broadcast advertising. There has never been as many data touchpoints for sports fans than there are now, and the most effective sponsors are tapping into that constantly, discovering new and effective ways to engage with a rightsholder's support base.
Sports sponsorship can also be measured through market research, asking consumers whether there are specific brands they associate with particular events. This takes a little more effort but provides a clear picture on how much growth can be achieved through sponsorship and adds a sentiment rating, providing insights into how people feel about a brand.
Purpose-driven marketing
Related to this is purpose-driven marketing, where a brand uses its purpose to take a public stand on social issues and simultaneously sharpen the profile of its own. Purpose marketing has become a growing focus for brands over the last few years when brands discuss corporate social responsibility (CSR).
This value-centred way of communicating is becoming more worthwhile as consumers put more faith not in products, but brands which match their own individual values. This is not just anecdotal, the data points towards this also. According to the wantedness study by Wunderman, 89% of consumers are loyal to brands who share their values. The b4p Trends study also shows that 77% want a brand to take a social stance.
Revenue-driven sponsorship
One of the biggest questions facing marketers continues to be "what is the ROI of sport sponsorship?" Whilst brand awareness has become more tangible in how this is measured in recent years, it is still not directly linked to revenue. However, brands are using sport as a lead generation tool, easily linking the effect sponsorship has on the bottom line. This can be through contests, special offers or correlating the data between number of sales and the broadcast of a specific sports event.
Sport is continuing to fragment in terms of formats, audiences, channels and reach. This is why the commercialisation of sponsorship will continue to grow for the foreseeable. This fragmentation offers an opportunity for brands to pinpoint the exact audience they are hoping to reach like never before. Gone are the days when sports sponsorship was saved for organisations with huge budgets. Given the tailored approach taken by rightsholders to accommodate sponsors, there is no better time to discover the potential opportunities to get ahead of competitors.
What is the future of sports sponsorship?
Sports sponsorship is a tried-and-tested marketing strategy, but it's evolving. To stay ahead of the curve, brands must develop a clear strategy that aligns with their overall marketing objectives and resonates with their target audience.
The changing the definition of branding in sport, the role of brands in esports, geopolitical and cultural competence and meaningful marketing are four aspects brands need to consider when considering the future of sports sponsorship. Effective sponsorship will require careful planning and execution to ensure that it aligns with the company's values and resonates with the target audience. Brands that demonstrate cultural competence and a commitment to making a positive impact on society, the climate, and diversity and inclusion are more likely to resonate with fans and build long-term relationships.