Closing the gap with Corebine - mobile-first fan engagement platform launched
Corebine captures and engages sport audiences through a platform specifically designed for mobile websites and native applications
Zug, Switzerland / New York, USA – To address the major shift toward mobile platforms, OMNIGON, an Infront group company, officially launched its newest mobile-first platform, Corebine. Encouraging fan engagement, Corebine provides content such as standings, live scoring, player and team profiles out of the box and without the need for repetitive customisation.
OMNIGON is specialised in the design, development and delivery of experiences that engage large audiences and create value for rights holders. Corebine was developed as an audience engagement platform to empower brands and content owners through an innovative set of publishing and sponsor activation tools.
The revolutionary CMS has already proven its value, having been successfully utilised by a number of sports properties over the last few months, including the Champions Hockey League (CHL) and CONCACAF.
.@omnigon currently streaming their presentation live on Instagram. Check it out to find out more about Corebine. https://t.co/zKDxaCKGzd

— Infront (@infrontsports) October 4, 2017
"Constantly maturing solution"
"Working with so many properties and rights holders, we saw a clear need for a digital content platform that focuses on fan and audience engagement, which is the most important thing for our partners" says Claude Ruibal, Executive Director Digital, Production and Sport Solutions. "Now we are able to close this gap through OMNIGON's Corebine, which is designed to reach consumers where they are. With this continuously maturing solution, we can ensure that our clients are always at the forefront of digital innovation; new features will automatically be rolled out to all existing platforms at no cost. This is an advantage for our clients since we know how important fan satisfaction is."
365 days of ice hockey
To enhance its digital presence, OMNIGON worked closely with the CHL in the design and development of their new responsive website and native iOS and Android apps. Features include dedicated team pages with complete schedule information, robust team and player statistics, historical information, latest news and video hubs and league schedule and standings. The site also includes a dedicated hub for fans to make their predictions on who they think will win each game as well as ProSuite's engagement features such as BracketPro and PollPro. CHL's suite of mobile apps was also launched leveraging the platform.
"As a rather young competition in the sports industry we are permanently challenged to go the extra mile to attract attention" says CHL CEO Martin Baumann. "Providing the fans an outstanding experience on our digital platforms, including a mobile-first approach, as well as rich data visualisation and exploitation packed in a state-of-the-art design is a key part of our digital strategy."
"Benefiting from OMNIGON's tremendous experience and their new Corebine platform in combination with the additionally selectable ProSuite fan engagement enhancements, the CHL has taken a step to the next level on its way to establish themselves as Europe's greatest ice hockey competition."
Leveraging OMNIGON's years of expertise, Corebine combines the power of OMNIGON's award-winning User Experience (UX) team, expertise in standardising deployments, robust sports knowledge and proven fan engagement product suite to create the optimal digital experience for any rights holder or property.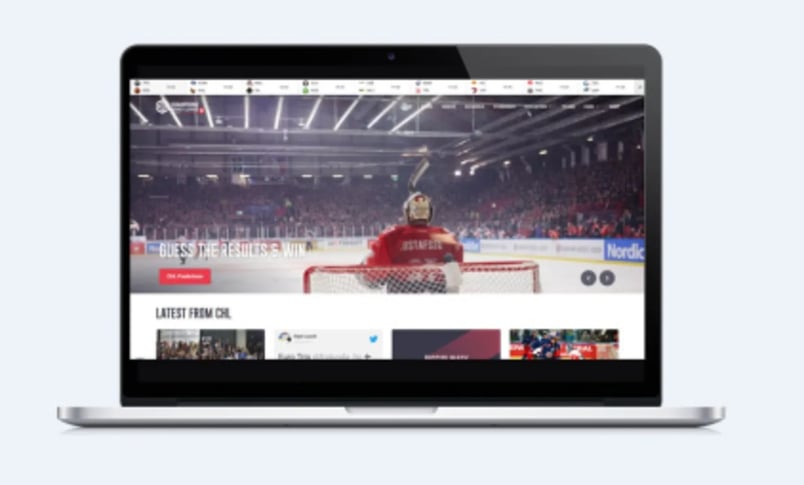 "Fan engagement is a tremendous priority"
"Over the last few months, we successfully launched two new websites using Corebine – one for the Gold Cup and the other for the launch of our inaugural CONCACAF League," said Jean Jimenez, CONCACAF's Director of Digital Products and Emerging Technologies. "Fan engagement was a tremendous priority of ours specifically around the Gold Cup. Leveraging Corebine and some of the unique components, like Man of the Match, a robust live mode, and comprehensive statistics, engagement throughout the tournament in our region was unprecedented."
Corebine features
Mobile-first: Corebine was designed as mobile-first from the beginning and supports both mobile websites and native applications. This is critical to reach younger consumers who live on their mobile devices.
Fan engagement features: Corebine can be deployed in conjunction with ProSuite, OMNIGON's set of fan engagement tools. These three products – BracketPro, PollPro and MVP Vote – help partners deliver unique, compelling experiences that are customisable, quick to launch and satisfy additional sponsorship initiatives.
Fan data collection: Corebine can be integrated into an existing CRM system enabling rights holders to run sweepstakes / contests and learn more about their fans.
Speed to market: With Corebine, mobile websites and native applications can be launched in three months, significantly shorter than custom deployment or leveraging other CMS products.
Built for sports: By addressing common sport's needs (including standings, live scoring, player and team profiles) out of the box, Corebine avoids repetitive customisation, thereby reducing time, risk and cost and enables the products to get to the market faster.
Technologists included: Corebine platforms can be designed, built, deployed and managed without the internal resources from our partners. OMNIGON supplies the technologists to ensure all required engineering and infrastructure items are accounted for.
Value beyond launch: The platform is continuously maturing; as new features and enhancements are added globally, they will automatically be rolled out to all existing platforms at no cost.
There are a handful of other projects, which are currently in development with launches planned over the coming months.
About Infront Sports & Media
Infront Sports & Media, a Wanda Sports company, is one of the most respected sports marketing companies in the world, managing a comprehensive portfolio of top properties. Led by President & CEO Philippe Blatter, Infront covers all aspects of successful sporting events – including distribution of media rights, sponsorship, media production, event operation and digital solutions – and has won a reputation for its high standards of delivery. As the number one player in winter sport and with a leading role in football, summer and endurance sports, Infront enjoys long-lasting partnerships with 170 rights-holders and hundreds of sponsors and media companies. Headquartered in Zug, Switzerland, Infront has a team of more than 900 experienced staff working from over 35 offices across more than 15 countries, delivering 4,100 event days of top class sport around the world every year. In November 2015, Infront was integrated into Wanda Sports Group, part of the Chinese conglomerate the Dalian Wanda Group.
About OMNIGON
OMNIGON, an Infront Sports & Media Company, is a team of digital strategists, artists and technologists working exclusively in the areas of consumer loyalty, audience growth and digital content delivery. Since its founding in 2008, OMNIGON has established itself as a market leader, focused on helping clients achieve returns on the strategic, creative and technical investments they've made. OMNIGON, headquartered in New York and with teams in Los Angeles, London, Toronto, Kiev and St. Petersburg, works with celebrated, global brands including Fox Broadcasting, Verizon, the PGA TOUR, CONCACAF, the United States Golf Association (USGA), FC Bayern Munich, AS Roma, the German Football Association (DFB), IRONMAN, NASCAR, World Rugby, and countless others.
About Wanda Sports
Wanda Sports is the world's leading sports business entity, founded to capture the opportunities in the global sports industry and to contribute to the prosperous international sports landscape in three key areas: 1) Spectator Sports (media & marketing business), 2) Participation Sports (active lifestyle business), 3) Services (digital, production and service business). Led by President & Vice Chairman Philippe Blatter, Wanda Sports incorporates the international sports marketing company Infront Sports & Media, the iconic endurance brand IRONMAN and Wanda Sports China. The headquarters are in Guangzhou, China.