How sports content automation adds value for rightsholder
In 2017 Elon Musk – the would be king of Twitter and deliverer of convertibles to space – explained that the biggest future danger facing mankind is AI (Artificial Intelligence) and machine learning. He called it the "scariest problem" (although he also called the cars he builds semi-sentient robots, go figure). However, strangely, the Tesla's designed by Musk and his team are an example of how the right level of automation mixed with a human touch can evolve a whole experience.
Sports content automation is not a new toy for creators. Social media's exponential rise saw rightsholders scurry for content to satisfy the burgeoning appetites of fans operating on a range of ever-changing and trending platforms. One week the focus was on ensuring there was enough video content to please Facebook's algorithm, the next it was adapting the same content to portrait view for Snapchat as it began its meteoric rise. Often led to difficult decisions, with one platform neglected simply due to a lack of resources.
The fight for attention has become harder and more finely tuned than ever. It is no longer a slugfest where the heaviest hitter wins, but a tactical mixed-martial arts contest where slight adaptations and sequences help leverage control and engagement.
Simultaneously, fan expectations are changing. Whilst there was once a thirst for fantastic rallies or the best goals, these no longer set sports apart from each other. Fans want to peek behind the curtain to see how their heroes live. Those incredible sporting moments are important, but the journey behind them is what fans are invested in. It's all about providing context.
How sports content automation can present rightsholders the gift of time
Of course, the human element of a sports story requires a human touch, and sports content automation is something that can provide the time for an actual human to craft a story whilst AI digs for the golden moments in sports events.
WSC Sports has been doing this for years, using machine learning to pick out the best moments from a wide range of sports and automatically creating highlight packages in various formats and lengths. It is something Infront was discussing four years ago ahead of the 2018 IIHF Ice Hockey World Championship. That relationship has stuck and saw an increase in total video views from 450k in 2014 in a pre-automated video content world to 53.2m at the 2022 edition. The most notable increase is the number of engagements which have gone from 110k in 2014 to 6m in 2022. These figures couldn't have been achieved without AI doing the heavy lifting when it came to highlights and in-game clips, freeing up valuable time for the IIHF and Infront to create tailored content for its platforms.
It was a tool the European Handball Federation also used, along with a few others outlined by the organisation's Head of Communications, Thomas Schöneich, in a recent episode of The Mix Zone podcast. "We've been on a journey with them [WSC] to adapt their product for handball."
They also included Minute.ly in its process, using AI to create Automated Preview Videos in an effort to improve the number of click-throughs to its website. They saw an increase of over one third in the click-through rate using Minute.ly's technology.
The relatively small element of AI has significantly improved fan engagement and increased touchpoints. "This is something that we tried and tested and basically have then incorporated into our daily workflows," explained Schöneich.
As helpful as the technology is, it is becoming more and more prevalent, and if rightsholders are not using sports content automation already, they need to be seriously considering it to keep up with the pack. That is because it leads to the gift of time.
It was the one aspect Graeme Thewliss and Sean Elderbrant, the two members of the Scottish Professional Football League's (SPFL) content team, noticed most when they brought in machine learning and automation.
They would spend countless hours collecting footage from clubs, broadcasters, and YouTube, before editing highlight clips and scheduling everything natively through Twitter, Facebook, and Instagram. They relied on the social platforms for analytics, which proved to be limiting and lacked a deeper understanding of how their content was performing and the impact it was having.
Midway through the 2020-21 season, SPFL turned to automation to try and solve the countless pain points they were battling. They began using Content X, an all-in-one automated social content creation, distribution, and analytics platform. Content X automatically generates and distributes campaigns and all forms of content - textual, video, and infographic - across social channels.
"Creating a video with all the goals from the weekend used to be Sean's whole Monday morning," Thewliss explains. "Now on a Monday morning, all the goals arrive on Content X, which Sean just publishes. Instead of it being 14:00 when Sean is finished doing the weekend action, it's 11:00. He's gaining 2-3 hours."
How to fill the hours sports content automation saves
There is a simple graph many sports content creators can call on which highlights the issues rightsholders face when it comes to engaging fans consistently.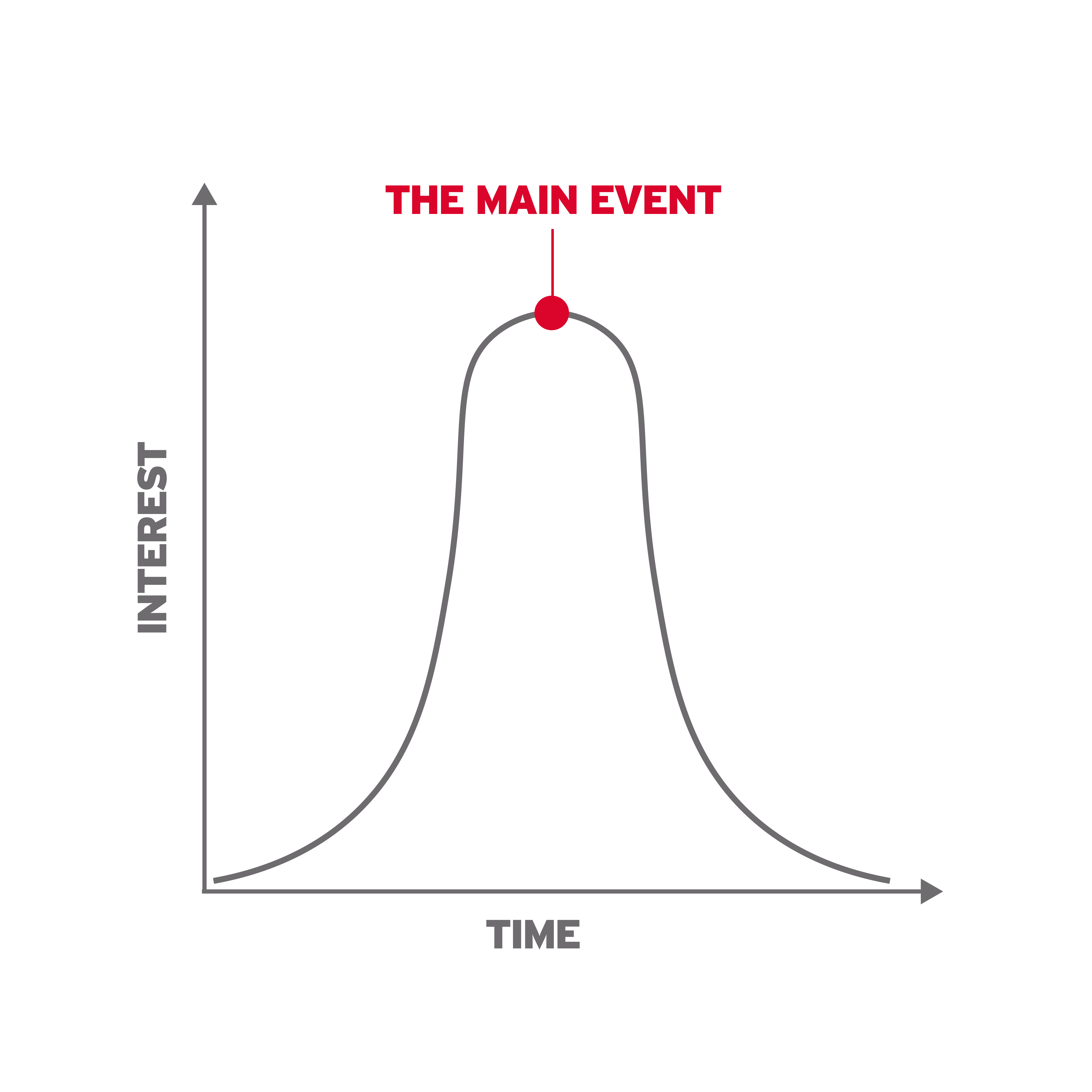 Sport predominantly remains an appointment to view experience. It's why media rights, despite what many people believe, will continue to increase. Live sport, as an audience draw, is not going anywhere. However, maintaining interest outside the 90 minutes, as it were, will always be a huge challenge for rightsholders. That's what this graph demonstrates, and it can be scaled to represent a yearly event, a monthly event or a weekly event. The problem remains the same: how do you bring the appointment to view experience to everyday life when there are multiple competing entertainment providers?
Whilst sports content automation can quickly deliver the highlights from an event and player clips in the build-up to matches, social media is immediate, and fans want to see what teams and their stars are up to in the weeks and days leading up to the competition. This is how content creators within organisations can fill the time saved with machine learning technology. It provides breathing space to tailor better and more relevant content to fans. That is if they are brave enough to take the risk of trying something new.
Automated content takes the challenge of delivering hugely popular sports action content off the table of content creators, freeing them up to try new platforms. Or, as Schöneich put it in the podcast, "put an extra engine on the boat." For EHF (European Handball Federation), that is best displayed by its huge increase on TikTok.
"I've basically given it to one guy who has been the driving force and has basically grown it from December 2020 at 20,000 and it now stands at almost 400,000 followers." In short, it freed up a resource which has been able to build a whole new audience.
A lot of the content which drove EHF's 1,000 percent increase in followers included live chats with players and experts, additional behind the scenes content and the launch of the #HandballSkills hashtag which invited content creators to post their own videos.
"I think you must not be afraid to fail, but your goal should not just [be to] try for the sake of trying. You have to be willing to invest the resources to make this thing happen."
Sports content automation has also freed up the team that was creating digital content for the 2022 IIHF Ice Hockey World Championship. Their goal was to leverage IIHF social media channels – which include TikTok, Instagram, Facebook, YouTube, VK and Weibo – to promote content that is either produced by the digital team or the host broadcaster. It allowed for continuous and relevant content both from the games as well as exclusive behind the scenes action.
Once again, TikTok formed a big part of why tailored content was important to the IIHF. As the Federation's fastest growing social channel (it gained over 70,000 new followers during the IIHF 2022 World Championships), creating content which works on the platform is imperative to engaging those younger users more to continue to grow the game.
If rightsholders are serious about delivering the best possible experience to fans, the full 360° picture from their sport, automated content needs to be part of their strategy. There is simply not enough time to satisfy the average fan and content providers need all the help they can get.