Future fan engagement: Five tactics to elevate the experience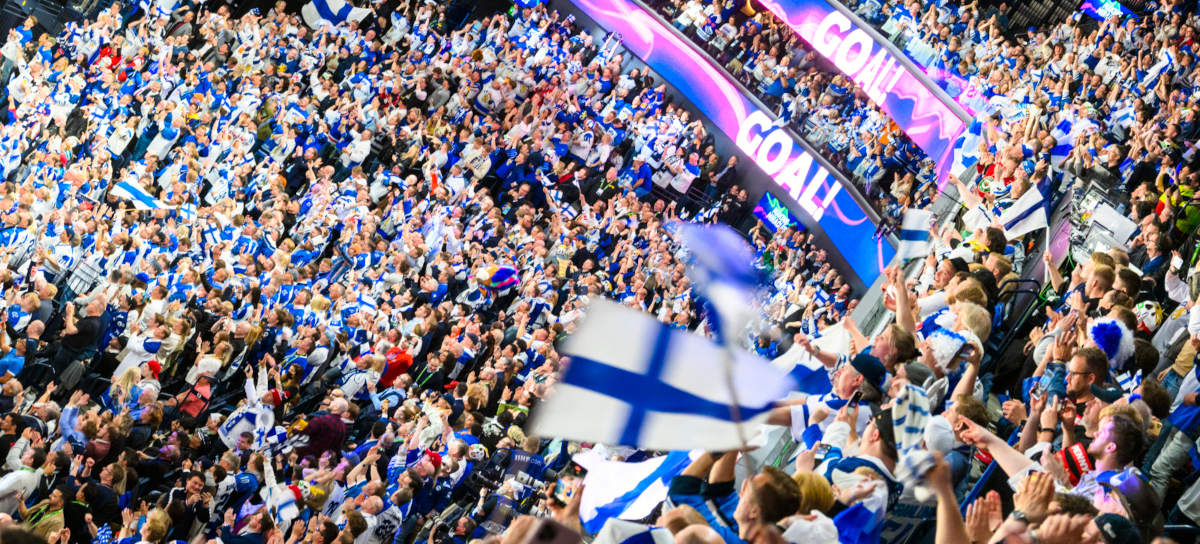 Rightsholders and brands may find gaining exposure through sport easy. But unless there is a concerted effort to work on fan engagement at sporting events and beyond, it is a lost dialogue. Connecting them to what is happening on the field of play or during an activity is another step towards conversion as a dedicated fan or consumer. We looked at five trend cases that outline what the future of fan engagement in sport could look like.
Digitized floors enabling a playful approach to in-venue data
Floors that can change lines at the flick of a switch have graced sports halls around the world for some time. Something more sophisticated is necessary for professional sport. The digitalization of courts by ASB GlassFloor may point to a new step for in-venue engagement. In a recent update to their regulations, the International Basketball Federation (FIBA) approved LED glass flooring for top-level basketball competitions including the World Cup. Its digitized playing surface offers an alternative, offering a chance to display video content.
These floors could enable new ways for playfully linking sport, entertainment, and advertising. Upgrading the in-stadium experience for fans through the intelligent use of data could highlight key statistics from a game missed by those in the stands, increasing fan engagement between plays.
An NFT that gives back
NFTs, along with the metaverse, has been the buzz phrase in the sports industry over the last 18 months. Everyone is talking about it; everyone sees its importance. But ask the majority of fans outside sport venues and many still don't see the benefits of NFTs in sport. The tangible value is low, as is the engagement level for supporters.
The NBA team Golden State Warriors dropped its NFT in the first half of 2022. Its value was linked to the team's playoff run. Every time it won a 2022 playoff series, the NFT unlocked benefits. This was based on the rarity of the NFT and included game jerseys, autographed memorabilia, and merchandise. Fans that bought the tokens early on were laughing as the Warriors took their fourth championship in eight years, beating the Boston Celtics in six games. An NFT fan engagement that links the gap between web 3.0 and 2.0? It could be a model for the future.
New betting markets driving broadcast data use
Betting and sport have always had a close relationship in Europe and Asia. But 2018, when a ruling of the US Supreme Court cleared the way for states to legalize gambling, has changed the game. Americans have bet $123bn on sports since then generating $1.3bn in state and local taxes. The US's entry into the market was a catalyst in the technology used to engage potential bettors.
FuboTV has introduced new features that enable a more interactive experience for fans. "Perfect Pick'ems" are free contests for those who want to compete against each other by predicting the outcome of live games before they start. Players can compete with family and friends by earning points and ranking on a leaderboard. In the states with loosened sports gambling rules such as Arizona or Iowa, fans can make wagers with real money.
Combined with the opportunity for income streams and higher interactivity, it is a matter of time until established broadcasters will follow with similar integrations.
NFL offering a more realistic gaming experience
Engagement begins with awareness. Whilst rights holders usually have an attentive audience during broadcasts, maintaining that same attention outside game day can be a challenge. Gaming has been one way to solve that issue, but the NFL are taking it one stage further by placing fans inside the game with NFL PRO ERA.
The move sees the NFL become the first sports league in the US to launch a VR game as it bets on the future adoption of VR devices. It hopes the lure of a more immersive experience for fans could drive demand and open new revenue opportunities for video game producers and rightsholders.
Move to earn encouraging a healthier lifestyle
Engagement in sport goes beyond the professional realms, and society is keen to promote an active lifestyle. The incentives of a healthier body and increased life expectancy are obvious, but shorter goals which gamify fitness have seen some success in recent years.
STEPN is one of the first and major Move to earn games. Built on the Solana blockchain, it requires users to run or walk to earn tokens, rewarding people for living a healthier lifestyle. New users buy into the game with an initial investment and in return, they receive an NFT in the form of a digital shoe and can start earning tokens by moving for a set amount of time each day. The company incentivizes reinvesting the earned money in new NFTs, offering the option to extend the limit of tokens earned per day.
With the number of platforms and content society uses increasing, engaging a user base in an innovative way is becoming ever more crucial.