Hammer Series racing from Stavanger, Norway and Limburg in the Netherlands attracted more than seven million online video views, underlining the growing attraction of professional cycling's hottest property
Zug, Switzerland – The inaugural Hammer Stavanger (25-27 May) and Hammer Limburg (1-3 June) races saw 16 of the best pro cycling teams battle for glory in the fast-paced road bike series designed by Velon and Infront.
Infront is responsible for overseeing media production and distribution across broadcast and live streaming platforms, granting the fans optimal access to their sport. The first two races were broadcast live across Europe, USA, Canada and most of South America through traditional broadcast channels and streamed live across a range of the most popular online social media and streaming platforms.
Following the hugely positive fan reaction to Hammer Limburg in 2017, the popularity of Hammer Series racing has hit new heights this year with one more race still to come in Hong Kong on 14 October, where the Hammer Series Champion will be crowned.
Mitchelton-SCOTT are on top of the leader board after completing a clean sweep of victories at Hammer Stavanger and taking two races at Hammer Limburg but in Hong Kong it's still all to play for (see full leader board below).
The Hammer Series is streamed live and free on hammerseries.com, Twitter, Facebook, YouTube and dailymotion. Global Cycling Network also produced their own coverage on Facebook using the live video stream provided by the Hammer Series.
Hammer Stavanger and Hammer Limburg combined had more than seven million views, 4.75 million of which were of the live streamed coverage and replays. Highlights of each day's action and short clips published on social media, including Hammer Series' fast-growing Instagram channel, totalled another 2.36 million.
Over the two races, the special #HammerSeries emoji created by Twitter was used nearly 10,000 times.
Not only have fans watched in their millions, the Hammer Series is also proving popular with riders.
Koen de Kort, Trek-Segafredo, tweeted after Hammer Stavanger: "Definitely a very hard race. I'm just looking at my Garmin now and it's telling me I am over-reaching in about everything. I think it's a great concept."
Aaron Gate, Aqua Blue Sport, was blunt in his tweet: "Now I know why it's called the Hammer Series. It's named after the tool that it feels like someone is beating your legs with for two hours straight. But hey, it was still a lot of fun."
The innovative format is designed to find the strongest team, with no individual prizes.
Graham Bartlett, Chief Executive Officer at Velon, said: "We're absolutely thrilled that so many fans watched the teams and riders going all out at the first two Hammer races. Hong Kong is going to be a fantastic finale to the series."
Mark Buttermann, Director Summer Sports at Infront and Co-Managing Director of Hammer Series said: "We've achieved another huge milestone for Hammer Series. The concept is proven, the fans, teams and riders love it and we have a true series. The season finale in Hong Kong promises to be epic."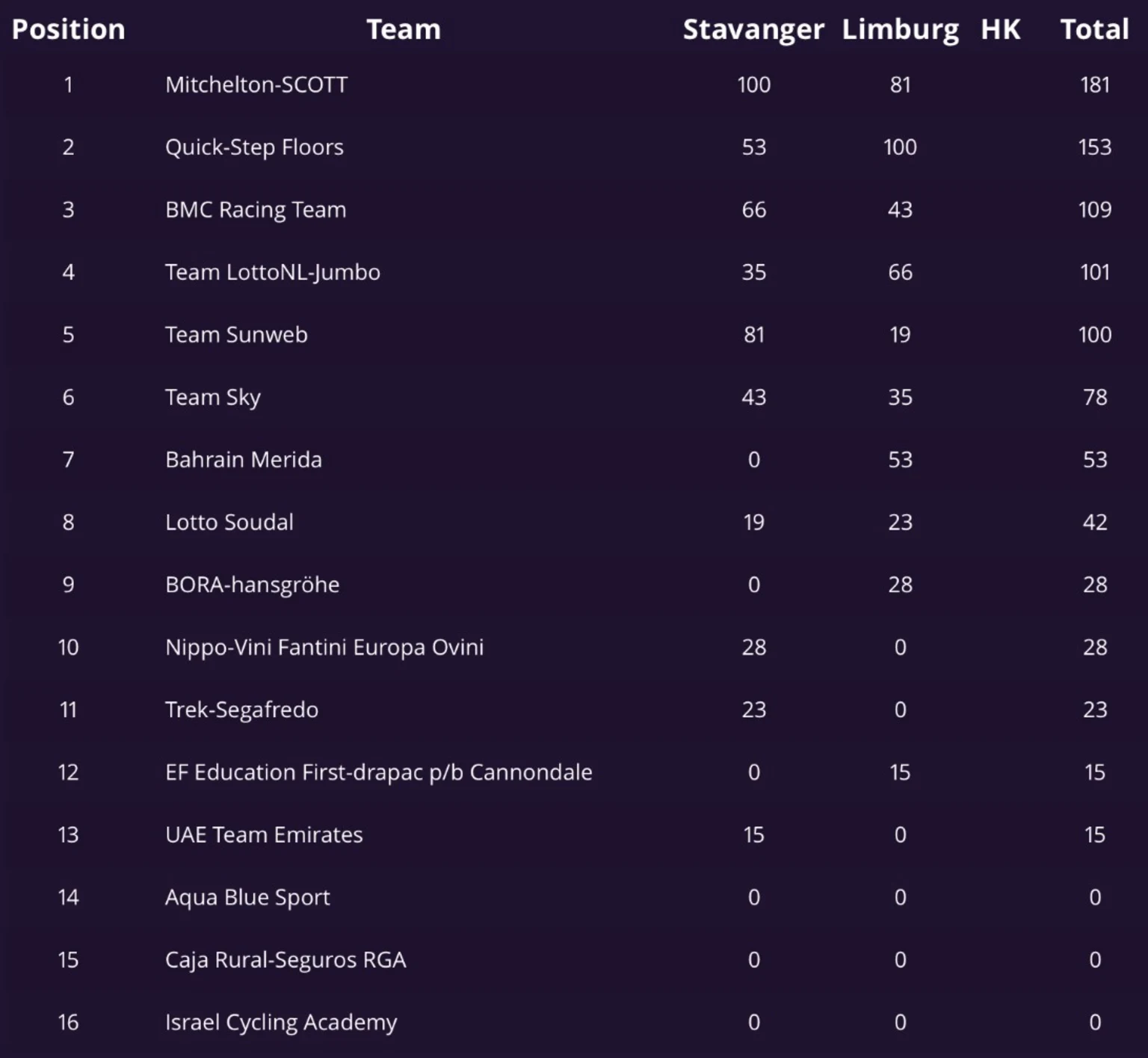 About Infront
Infront is a leading sports marketing company managing a comprehensive portfolio of top properties. Infront covers all aspects of successful sporting events, including the distribution of media rights, sponsorship, media production, event operation and digital solutions. Headquartered in Zug, Switzerland, Infront has a team of more than 1,000 staff working from over 39 offices across more than 14 countries, delivering 4,100 event days of top class sport around the world every year. In 2015, Infront was integrated into Wanda Sports Group, part of Chinese conglomerate Dalian Wanda Group.